ORATORIO
The following list is a sample of the pieces in which I have sung the solos with various choral societies and choirs. I am always happy to learn pieces, whether standard or unusual, old or contemporary.
CPE Bach Magnificat
JS Bach Matthew Passion, John Passion,
Mass in B minor, Magnificat
Brahms Requiem
Britten War Requiem, Noye's Fludde
Delius Seadrift, Appalachia
Duruflé Requiem
Dvorak Stabat Mater, Requiem
Elgar Dream of Gerontius,
The Apostles, The Kingdom
Fauré Requiem
Finzi In Terra Pax
Gounod Saint Cecilia Mass
Handel Messiah, Jephtha, Saul,
Judas Maccabaeus, Samson
Haydn Creation, Seasons,
Nelson Mass and others
Mathias The Worlde's Joie
Maunder Olivet to Calvary
Mendelssohn Elijah
Monteverdi Vespers
Mozart Requiem, Masses
Nielsen Symphony No.3 (Expansiva)
Orff Carmina Burana
Purcell Ode on St.Cecilia's Day, Come ye sons of art, Dido and Aeneas
Rossini Petite Messe solennelle, Stabat Mater
Schubert Mass in G and others
Stainer Crucifixion
Tippett A Child of our Time
Vaughan Williams Hodie, Five Mystical Songs, Fantasia on Christmas Carols, Dona nobis pacem,
Sea Symphony
Verdi Requiem
Walton Belshazzar's Feast
Zelenka Lamentations
Alwyn Mirages
Finzi Let us Garlands Bring
Schubert Winterreise
Schumann Dichterliebe
Somervell A Broken Arc (as on 1st Meridian CD)
Vaughan Williams Songs of Travel
Martin Oxenham and Jonathan Beatty rehearsing for the Balfour Gardiner CD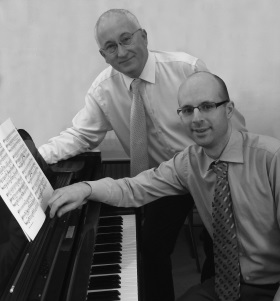 With string quartet (as on 1st Meridian CD)
Walford Davies Prospice
Butterworth Love blows as the wind blows
Geoffrey Bush Farewell, Earth's Bliss
A programme with organ, violin and 'cello has been popular at recitals including one at St.Paul's Cathedral in November 2004. Exploring the psalms as songs, it featured Howells' By the Waters of Babylon (as on 2nd Meridian CD), other vocal pieces, organ solos and Kodaly's Duo for violin and 'cello.